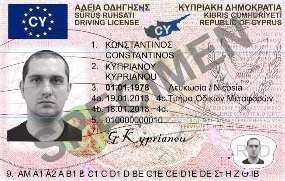 The information in this page refers to FULL non-vocational driving licences.
You should read this page in conjunction with the main Cyprus driving licence page.
To obtain a Cyprus licence.
Application has to be made in person at the District Offices of the Department of Transport or Citizen Service Centers (CSC) with the documents shown below. I would recommend the  Citizen Service Centers
If you already have a Cyprus driving licence you will require:
1) A completed TOM 7 application form – only available in Greek.
The form is is available and an English translation of the main headings can be downloaded here.
2) A form TOM 153 already signed by a doctor, stating that you are fit to drive. This is in the main an eyesight test. Drivers require a medical on reaching 70 years of age and each subsequent renewal.
Staff will take a photo.
Drivers will be issued with a temporary paper licence. The temporary license will entitle the holder to DRIVE ONLY IN THE REPUBLIC OF CYPRUS until the arrival of the photo-card licence. You will be notified when the new licence is available for collection at the District Offices of the Department of Transport for your area.
The licence is normally valid for three years.
The earliest a driving licence can be renewed is within the last month before the expiry of the old one.
If you don't have a Cyprus licence then the document requirements are listed on the Cyprus Driving Licence page.