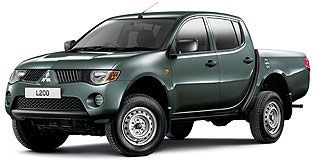 If a vehicle is FOUR years old it is required to be tested, then tested every two years after that.
The vehicle inspection is similar to the MOT test in the UK and is carried out at authorized garages. The test is computerized and takes about 30 minutes.
The test covers:
exhaust emissions
brakes
suspension
steering
a visual check of lights, tyres, brake pipes etc.
You will not be able to renew your Road Tax without the vehicle passing the test.
The Procedure.
If your vehicle is properly registered and the Department of Transport has your current address, and you have failed to submit the vehicle for testing, you may receive a notification, in Greek, that the test was due.
The form includes information on the current fees and the date by which the test must be carried out. It may be a month or so after the anniversary of first registration.
You will be given a limited time in which to comply with the requirement.
It has been proposed that a text message may be sent to the owner prior to the test becoming due.
If you do not receive notification, you should go through the same procedure. Non receipt of the reminder will not let you off the hook should it come to a prosecution.
Take the vehicle registration document and the fee (currently €35.25) to a testing station authorized to carry out the test.
If a vehicle fails the test a temporary certificate is issued which allows 30 days to rectify the faullts.
The re-test fee is €10.
The result is entered on the DoRT database immediately and a certificate is issued. The certificate is valid for TWO years from the date of issue.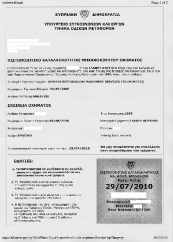 If your vehicle does not have a valid vehicle test certificate the road tax becomes invalid. You are likely to be prosecuted for both offences.
Insurance companies may refuse to cover damages to the vehicle if the driver of such a vehicle is involved in an accident.
Information regarding Cyprus tyre law is available on this site.
To download detailed information on the MOT Test with a rough English translation click here.
Currently motorcycles are not being tested.
However the law is in place (from the 6th July 2012) to test:
Motorcycles
Tricycles
Electric vehicles
Motor vehicles hired without drivers
Under the amendments to the legislation the above categories of motor vehicles will be invited to undergo inspection at a time to be decided by the Commissioner.