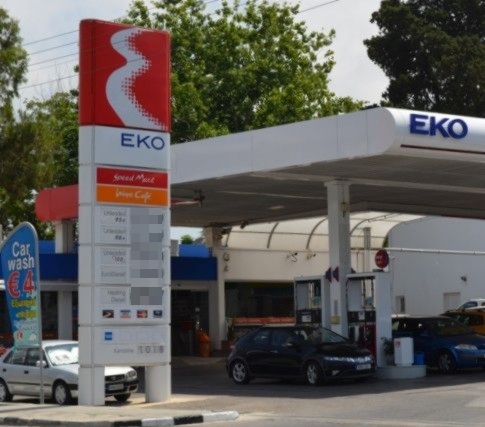 Petrol stations in Cyprus
are modern and common in the towns. Most have attendants to fill your tank for you, although you will find a few that are self service.
Many major stations also have shops where you can buy auto accessories, food and drink.
A guide to current fuel prices can be found here.
Mountain driving uses more fuel than you might think.
So if you are planning such a trip, be sure you have enough fuel to get you there and back. If you make a wrong turn, although the distance may not look far on the map, it can take you some time to find your way back to civilization.
Most petrol stations are closed for attendant service at night and on Tuesday and Sunday.
This is not usually a problem though as there are machines that accept bank notes, major credit and debit cards and therefore operate 24 hours. The cash/card machines have instructions in Greek and English.
During the day when there is not a full attendent service there is often an employee on site to help with the operation of the machine and pumps.
Hire cars
Often operate the system of handing the vehicle over to you with an empty fuel tank, so you return it empty. This can lead to problems at the end of your rental if you are not careful. This practice is slowly changing to the system of receiving and returning the vehicle with a full tank.
Petrol is unleaded
95 and 98 octane fuel is available. So check what octane your vehicle requires. There are other more expensive fuels, but you are unlikely to need them.
Diesel
Fuel sold for motor vehicles is the cleaner Euro Diesel.